Seriously crushed right now. My greatest role model in life just took his own life. 24-time X-Games Medalist. Def hits hard, thought it was a joke. This pic was the first time we met, dew tour free flow finals 2007 in Orlando. Look at me I couldn't even believe we were meeting him. my whole family too. I'm fricken crushed. Thoughts to all of his family, wife & kids, the entire BMX world is getting hit hard right now.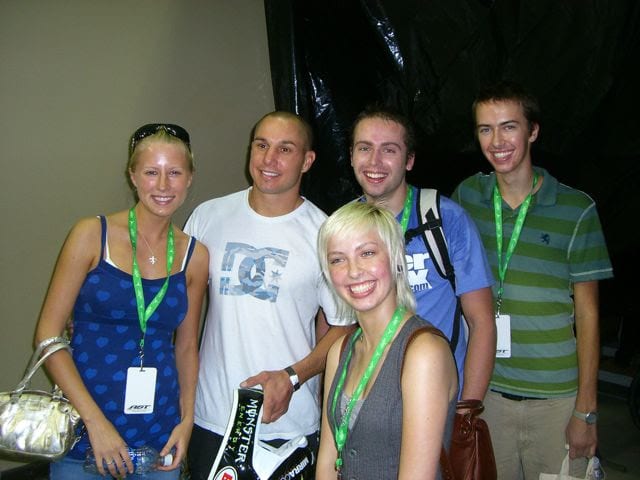 Took this pic of @davemirra & @leighramsdell about 10 years ago.. We had the opportunity to ride Dave's original BMX warehouse in North Carolina, Dave showed up in his Benz, I was in awe.. BMX legend. couldn't believe it. Huge thank you @leighramsdell @loddytoddy such a memorable moment in life. If anyone ever needs someone to talk to about random shit I'm always down, we're all just people message me any time.
There he is.. Also took this pic at Dave's original warehouse when his vert ramp was still there. Very difficult day for the entire world of BMX. Anyone remember seeing something recently about him putting the vert ramp back up? Seriously love this shot.
Found this quote:
"They say athletes die twice, right? You know, now I kind of see it," Mirra said in an ESPN interview last year following his retirement. "Part of me died when I said 'I'm done.'"
Great videos to watch of Dave
Other good articles I found about the situation:
http://www.businessinsider.com/bmx-icon-dave-mirra-found-dead-at-41-2016-2
https://www.reddit.com/r/bmx/comments/4486d7/dave_mirra_commits_suicide_confirmed/
http://www.slowtwitch.com/News/Dave_Mirra_reported_dead_today_5625.html
Still can't even believe this. Also found some great words from Fudger:
"Years ago, some fake news popped up reporting the death of Dave Mirra. Ironically, that very thing came up in a conversion we were having yesterday. So today, when news began to circulate of Dave's death, I immediately scoffed and doubted. I texted Dave the words, "I assume you're alive. Please confirm." It wasn't until that both TJ Lavin and Rob Darden confirmed this unbelievable scenario that it began to sink in. The idea that Dave Mirra, the prolific athlete who created and was living a life that most people could dream of… The man who was the most dominate, well-recognized BMXer on the planet… he could commit suicide? From all outward appearances, life was good. And even in person, when we invited him out to NORA Cup in September, he seemed great. We discussed a potential project to work on in the future, even. But everyone has their demons, and apparently Dave was dealing with his own. We'll never know exactly why, but that's not our place to question. Our job is to honor the guy that pushed the boundaries of BMX both on the bike and off of it and give our condolences to his family. Rest in peace, Dave. —Ryan
http://bmx.transworld.net/news/rest-in-peace-dave-mirra/#4jjTBLWFzDB4hMiG.97
Already the entire world misses you Dave.
Ride in peace.