Background
Riding since 1998, back in the days of looking up to Minnesota locals & GT Bikes pro riders Tom Haugen & Trevor Meyer, then years later performing in shows together.
Compete in various professional events, Dew Tour, FISE, ASA BMX Triples, etc.
Close with action sports camps Woodward, Lake Owen, etc. Instruct many BMX Lessons.
Ride nearly every day, also recently moved into the Southern California BMX Scene.
Worked full time in the bicycle industry for 5 years at QBP Distribution/QBMX.. Interbike attendee etc
Skills
Professional, clean, healthy, on time, helpful, role model, & friendly.
Freelance web developer, iPhone Apps (BMX Grub, Skate Grub, etc).
Social marketing for many shows & events I perform at. *Also includes web edits to help increase their online exposure.
Always interested in the business side, would love to help.
Proudest Accomplishments in BMX
Started a rider funded 24-hour ramp facility for kids to have a place to ride during MN's winters.
Traveled to more than 20 countries with bike.
1st Place at LHC Pro BMX Dirt Challenge in Lake Havasu City,AZ.
1st Place at Extreme Thing 2012 Professional BMX Dirt Jumping Contest in Las Vegas, NV.
5th Place at ASA BMX Triples Contest in Chicago, IL after landing his first triple tailwhip on a 10′ quarterpipe.
First person to do a 360 no footed cancan to late downside whip, 360 barspin to cancan tire grab, cannonball to barspin, cannonball to tailwhip.
Landing a backflip barspin to tailwhip, backflip double tailwhip, and a 360 tailwhip to tailwhip back. -Landing a backflip on the 50' MegaRamp at Woodward West in Tehachapi, CA.
Dustin Grice JET LAGGED. Unit 23 Skatepark – Scotland, United Kingdom
Dustin Grice 1st Place Extreme Thing Las Vegas Pro Dirt Comp
Dustin Grice 1st Place Lake Havasu AZ BMX Dirt Challenge
Dustin Grice 50′ Backflip MegaRamp 45-50MPH Woodward West Tehachapi CA
Dustin Grice Bike Check – Ghetto Shed England
Dustin Grice – 2 Hour Session

Dustin Grice Makes Front Cover Photo of BMX Plus Magazine
Dustin Grice Performs in Travis Pastrana's Nitro Circus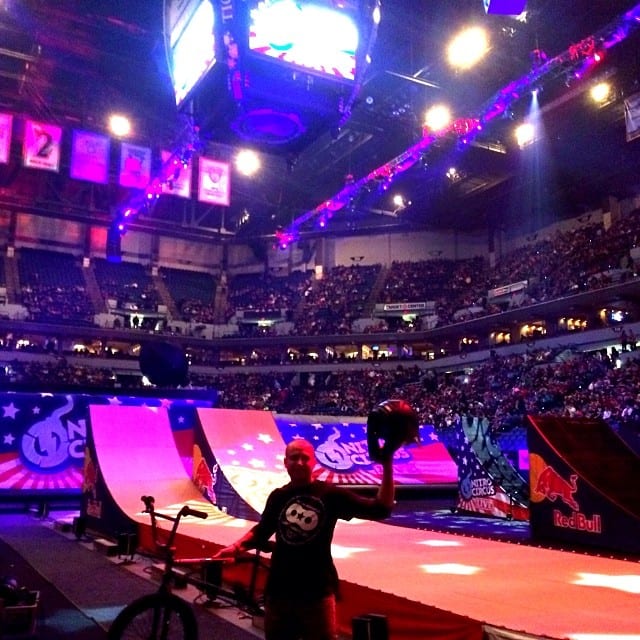 Events Performed At
Simple Session, Estonia
Baltic Games, Poland
BRAAAB, Netherlands
Delta Block Party, Delta Airlines Minneapolis & Atlanta
FISE Marseille, Montpellier, France & Costa Rica
X-Fest Action Sports Fest, England
Lake Havasu City Pro BMX Dirt Challenge
Extreme Thing Music Festival Las Vegas
Mountain Dew Tour – Chicago & Portland
Soulstyce Music Festival Los Angeles
ASA Entertainment High School Tour with US Marine Corps
Minnesota State Fair
Mall of America & Brain Injury Association
Sonshine Music Festival
Journey's Backyard BBQ
Elko Speedway Eve of Destruction
Minneapolis Ski & Snowboard Expo
Minneapolis Bike, Travel, & Fitness Expo
Nature Valley Grand Prix
Monster Truck Jam
University of Minnesota
Tacoma Dome & Franklin Graham
Mat Hoffman CFB
Souix Falls Empire Fair
Brown County Fair
North Star Roller Girls
St. Paul Cinco De Mayo
Various schools & town celebrations