"Here's to the crazy ones. The misfits. The rebels. The troublemakers. The round pegs in the square holes. The ones who see things differently. They're not fond of rules. They have no respect for the status quo. You can quote them, disagree with them, glorify or vilify them. About the only thing you can't do is ignore them. Because they change things. They push the human race forward. While some may see them as the crazy ones, we see genius. Because the people who are crazy enough to think they can change the world, are the ones who do."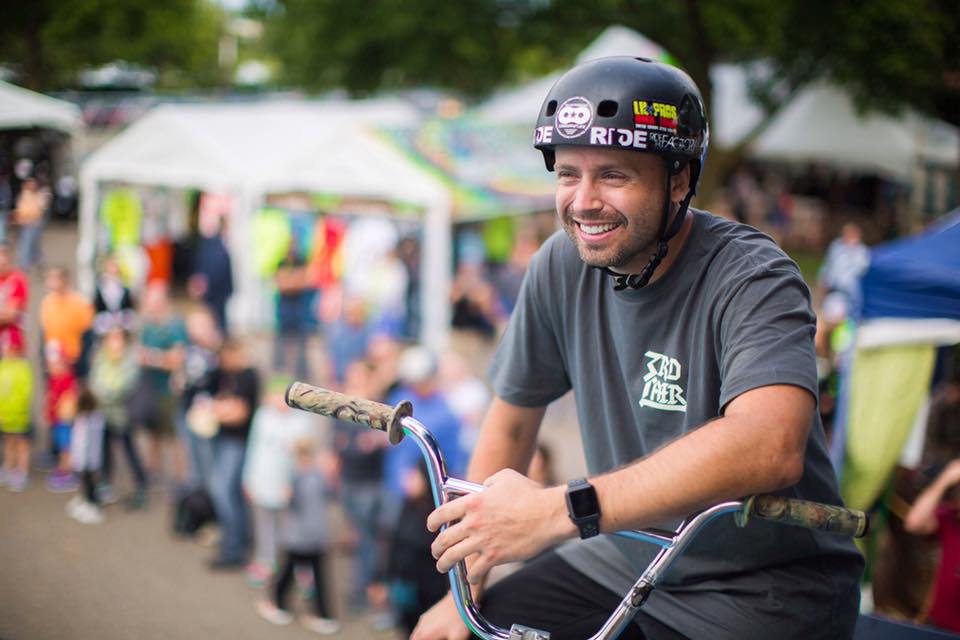 Dustin Grice
Founder & CEO at Ride Brand
Founder and Owner at Dream Park Builder
Founder and Owner at Lil Pros Kids Tour
Board Member at Link Foundation – The Pink Link And More
Co-Founder/Owner at The Factory – Minnesota's 24 Hour Indoor Bike & Skatepark
Self Employed/Owner at Freelance Web Developer
Emcee/Host at ASA Entertainment
Athlete at Pro BMX Rider
Entrepeneur at Grice Projects
Minnesota State Fair Show Rider at 3rd Lair SkatePark & SkateShop
Name: Dustin Grice Age: 32 Born: New York Hometown: Minneapolis Current City: Los Angeles & Minneapolis Education: 4 Years Hennepin Technical College Industry: Software Development & BMX Employment: 5 Years Quality Bicycle Products, 8 Years Self Employed, 2 Years Small Business Owner Traveled: South America, Europe, Asia, Australia/Oceania Favorite Traveled: New Zealand, Alaska Transportation: Always been a JEEP thing, now it's a VAN thing Action Sports Experience: 20 Years Accomplishments: Creator of Ride Brand Small Business, Explore Minnesota Super Bowl Commercial, Started The Factory Indoor Skatepark, Developed Grub Mobile News Apps (500,000+ Downloads), 50′ MegaRamp Backflip, BMX Plus! Magazine Cover, 1st Place Vegas & Arizona BMX Pro Dirt Contests Words of Wisdom: Live like no tomorrow… Yet stay in school, graduate college, have a backup plan, save money, wear a helmet, and TRAVEL. Nothing will change your life like traveling, you'll never regret traveling
Top Skills
Project Development & Management
Web & Software Consulting
Web Hosting
Graphic Design
A leopard can carry twice its body weight into a tree. Now if you hate reading this, at least you can walk away knowing you've learned something.
Dustin has one goal, to crack that stubborn smile of yours.
He is a very active & spontaneous individual, and lives for the daily excitement thrown into his world. He has a passion for bikes… Motorcycles, cycling to work, etc. Dustin grew up riding BMX bikes. Yes he is that rider you saw upside down at the MN State Fair, or even Explore Minnesota Tourism's brand new Superbowl Commercial.
The real world? You got it. 4 years at college, 5 years in IT at a high-performance distribution company, and also spent time instructing at a technical college. Dustin has also started a few small businesses with a handful of partners to keep him entertained.
Dustin also knows about…
Software Testing
RSS
Javascript
CMS Setup & Maintenance
Facebook, Twitter,…
API Development
Mobile Sites
SMS Text Messaging
Dedicated Web Hosting
Email
System Backups
24/7 Uptime Monitoring…
Online Marketing & SEO
Video Filming & Editing
PHP
MySQL
XML
jQuery
Facebook API
VBScript
Graphic Design
ASP
iOS
"Life moves pretty fast. If you don't stop and look around once in a while, you could miss it."

"Well, Dustin, you exceeded my wildest hopes with your final. You scored 279 points (out of 200), which I didn't think was possible. With performance like that, the…re was no way to escape getting an A in the class. In fact, when curving the final, I had to exempt your score from the calculations because it was skewing the numbers too far. At the rate you're going, I expect you to surpass my own PHP knowledge in a few months (if you haven't already done so). I appreciate your tolerance and patience with version 1.0 of the class, and really enjoyed having you as a student. I'd love to have you in one of my Linux classes down at EP. I think you'd like it a lot. If you ever need a professional or academic reference, I would be happy to fill that role. Have a great summer! Jeremy" -Graduating college with a bang. Spring 2006.

"Here is the address to my final website… Thanks Dustin, you are full of web wisdom. You are like Morpheus to the Matrix. Ryan" -Web Production Student -Spring 2010

"Hi Dustin this is Bill. I took BMX lessons from U. We saw you on TV last night on ASA. Text me when u can(: Bill" -BMX Lesson Student -Fall 2010

"Oh my gosh dude! I just saw a picture of you in BMX Plus! It is a full page too! I don't know if you've seen this yet but heres a picture! I literally was just in bed looking in the magazine and then I saw you! Congrats man! -Member of Twin Cities Fantasy Factory -Spring 2011
Founder/CEO
Ride Brand, LLC
May 2015 –
"It's about passion, camaraderie and making memories. A community of many coming together as one. It matters not what we ride, but in that we all ride."
Ride Brand with a simple, local logo and embroidered hat designed by Dustin Grice as something he could personally wear to represent his passions and where he is from. Soon after wearing his new hat, friends also started wanting their own as well. Within one year Dustin connected with business partner Robert Jara & soon hired his own mother Joni Griess to help with various tasks once a week. Fast forward another year and a small business had been born with an incredible unimaginable team covering many areas of the business. As the project continues to grow, Dustin continues to prioritize & shift his roles around all the different challenges that arise within this brand new adventure of scaling a small business. Dustin continues freelance IT & web development work as always to make sure his project is always funded.
BOARD MEMBER
THE LINK FOUNDATION INC
Our Mission is to simply raise more awareness about how we are all connected one way or another. We are a non-profit organization created purely for charitable reasons, to raise money for charities by creating unique awareness jewelry from recycled bicycle chains.
CO-FOUNDER, MARKETING & BOOKING AGENT
Twin Cities Fantasy Factory, LLC & Mega Jump Stunt Show (TCFF)
100% of our income pays for our operating costs. Our primary goal is to grow the sport of Freestyle BMX from the ground up, starting with kids and families. One of the unique ways we do this is by showcasing the kids who train with us in our "Mega Jump" stunt shows.
CO-FOUNDER & PROJECT DEVELOPMENT
CDG SOFTWARE
Developing software for social media & marketing, e-commerce, etc. Group buying publisher platform used to build a group buying network with white labeled publishers & offers from local businesses, currently processed over a half a million in sales. Barhop platform used for social media, SMS, & email marketing.
CONSULTANT, DESIGNER & DEVELOPER
WEB FREELANCER
CMS & web site setup, self publishing book distribution iPad Kindle etc, promotional video filming & editing, social network synchronization, online ordering, Facebook integration, online marketing proposals & execution.
Mobile Application Developer
Renters Warehouse
April 2013 – April 2015
Renters Warehouse offers professional landlord services to residential property owners. Renters Warehouse exists to free property owners from rental angst, so that they have the freedom to rent without fear and with confidence. "We are people (not just agents) who believe your home is more than just a rental." – says company founder, Brenton Hayden. We are tireless in our efforts, strong and straightforward in character, accountable for our actions, 100% dependable, and focused on value.
Renters Warehouse is now Minnesota's largest residential property management company. Renters Warehouse is the fastest growing property management company in the country.
Instructor
Hennepin Technical College
Instructed MGDP 2100 Web Design/Production for a class of 20 students. Exciting & challenging opportunity.
Application Developer II
Quality Bicycle Products
Worked directly with a dozen web developers in an IT department of 25, for a high performance distribution company of 500 employees. Incredible to be a major part of a $100M dollar website.
Dustin Grice has resigned from his position as Application Developer II with Quality Bicycle Products. Words will never explain what QBP has done for me over the past 5-6 years, professionally and personally. I look forward to continuing our positive relationship.
Progress Business Enterprise Software
4GL Essentials Certificate
Hennepin Technical College
2 AAS Degrees, Graphic/Web Design & Web Programming
– 2006