"On behalf of myself and everyone involved with The Factory 24 Hour Hobby Facility, Ride Brand, Lil Pros Tour YouTube Video Series, Link Foundation Charity, even as a host of ASA's Anti-Bullying High School Tour, we all want to wish you and your families the Happiest of the New Year. We look forward to another fun year together as we all continue doing what we love. Over the years these fun little side projects have turned into a movement that has become absolutely infectious… Families, kids, and riders of all ages have been tuning in from all over the world. We ride. We learn. We build. We fall. We encourage. We motivate. We get back up. We focus. We try again. We work together. We perform. We innovate. We're not scared to try something new & we never give up. We've created lifelong friendships, and lifelong memories. The goals, the achievements, the experiences, and the opportunities that have evolved because of our "labor of love" side projects outside of our normal jobs have balanced & changed our lives, and will live with us forever. It's just amazing to think about what we have all created together because of action sports. Words will never describe how grateful we are for your continued support. To every one of you who has ever joined us for a session or a show, worn or shared a product, or simply clicked on our website or videos online, Thank You. This year we were able to hit a grand total of over $21,000 donated to Minnesota Special Olympics Athletes with our very own "Fat Bike Flip Polar Plunge". This truly is an unexpected Dream Come True. Kicking off 2020 I will be teaching 6 "Website & Entrepreneurship" Emphasized Courses at Hennepin Technical College, 10 years ago this program built an incredible foundation that changed my entire life, and I'm excited to help kick start students of all ages on their own foundations and visions in life. Please reach out if you or anyone you know ever has interest in a new adventure in life. On behalf of myself and the rest of our teams, we look forward to serving you again in 2018 and all our best to you and your family this year. From my family to yours, Cheers to You for reading this, and 2020!" -DG"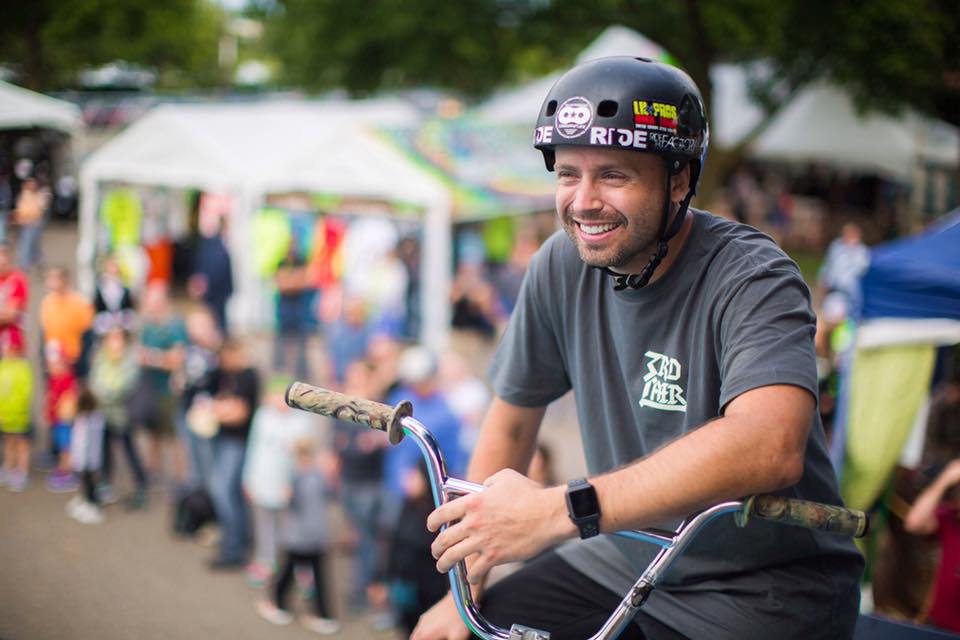 Our $10,000 Donation Jump for Minnesota Special Olympics
Thank you all for your contributions and for being a part of this exciting brand new concept supporting Special Olympics. A Grand Total of $10,459 has been Donated to Special Olympics Thanks to YOU! This is by far one of the most challenging things we've ever pursued… From logistically bringing the idea to reality 4 years later with Special Olympics, Property Owners & Zorbaz, Insurance, Local Law Enforcement & Cutting Ice… Then reaching for the moon and building our $10k Fundraiser Team within 4 weeks… Right up until the final seconds cranking thru non-ridable melting snow on carpet… WE DID IT. #TEAM10K. You are all going on our wall. Every single name. Your generosity truly hit us deep down with this one. Thank you all from the bottom of my heart -Dustin Grice
Dustin Grice Starring in Explore Minnesota Tourism's Super Bowl Commercial
So incredibly honored to be a part of our local Super Bowl 51 Commercial for Explore Minnesota Tourism, and so freakin proud to see our sport of BMX making it into mainstream media on this level.

"It's in the air. On the breeze. In the hush. In the roar. There's something happening here. Don't miss a second. Only in Minnesota."
Dustin Grice Performs in Nitro Circus LIVE
BEST NIGHT OF MY LIFE. Literally 16 years in the making hahh spent $250 on VIP tickets, then somehow Guetter got me in to ride practice last minute, 5 runs later it was already showtime and I was rolling in with all my homies as the local boy. Here is a quick recap by Doug Griess. THANK YOU NITRO CICRUS LIVE !!!!
Dustin Grice on the Cover of BMX Plus! Magazine
Never in a million year would I ever think I'd make the cover photo of a BMX magazine! This was actually shot at a Pro BMX Contest in Arizona that I went to while living in Southern California, and I somehow made it onto the podium for 1st Place! Huge thank you to Ben at BMX Plus! This is an absolute dream come true.
After being clotheslined by a mailbox at age 3 while learning to balance, to getting his first BMX bike at age 13, Dustin starting performing at America's largest State Fair at age 16 for over 10 years, and entered his first professional BMX contest at age 21. Dustin has competed in Dew Tour, ASA Triples, FISE in France, Baltic Games in Poland, Simple Session in Estonia, and won his first contest at age 26 in Las Vegas followed by another win later that year in Arizona. Dustin made the front cover photo of BMX Plus Magazine at age 27, and also performed in Travis Pastrana's Nitro Circus in Minneapolis at age 28. Little did he know that 15 years later, he would have traveled with his bike to more than 30 countries worldwide. As of recently, Dustin has been featured in Explore Minnesota's latest Tourism TV Commercial, first aired during Superbowl 51.
Instructor at Hennepin Technical College
For me personally, affordably starting in Web & Graphic Design at HTC built myself a foundation that changed my entire life, since college I've worked remotely on projects for myself and various clients while traveling to more than 30 different countries around the world. Life is anything you are willing to learn and create, I look forward to helping kick start and motivating you on your own foundation and visions.
Ride Brand
"

It matters not what we ride, but in that we all ride.

"
"It's about passion, camaraderie and making memories. A community of many coming together as one. It matters not what we ride, but in that we all ride." Ride Brand is a company committed to providing high quality apparel and goods to the action sports marketplace and beyond. Our goal is to bring forth a sense of community and family to a statewide riding public, be it BMX, mountain biking, road cycling, motocross, motorcycles, ATV's, snowmobiles, snowboards, wakeboards, horses or any other form of riding.
The Factory – Minnesota's 24 Hour Indoor Bike
&

Skatepark
"In January of 2011, only a few of us walked alone into a very small and completely empty warehouse space in Northeast Minneapolis with one idea in mind, to simply ride our bikes together in our own hobby facility at the convenience of our own time, family, and work schedules. Over the years this turned into a movement that has become absolutely infectious… Families, kids, and riders of all ages. We ride. We learn. We build. We fall. We encourage. We motivate. We get back up. We focus. We try again. We work together. We perform. We innovate. We're not scared to try something new & we never give up. We've created lifelong friendships, and lifelong memories. The goals, the achievements, the experiences, and the opportunities that have evolved around The Factory and our traveling Mega Jump stunt shows have changed our lives and will live with us forever. It's just amazing to think about what we have all created together because of action sports. Words will never describe how grateful we are for your continued support. To every member and every rider & parent who has ever join us for a session, and every event who has supported us over the years, Thank You. The Factory truly is an unexpected Dream Come True." -Dustin Grice, Co-Founder
Professional Emcee, Announcer, Hype Man from Minneapolis
After more than 15 years of experience performing in stunt shows all over the country, Dustin is now the tour host & emcee for the Anti Bullying ASA High School Tour with the US Marines, ATV Big Air Tour, Mega Jump Action Sports Experience, and Lil Pros Tour YouTube Series with more than 10 Million Views. He has been on the mic in front of clients such as the Minnesota Vikings Half Time Show for 70,000 at US Bank Stadium, WNBA's Minnesota Lynx, Delta Airlines, local Cub Scouts, and the Minnesota State Fair.
Freelance Website
&

App Development
I Need a Website. I Need an App. Let's get it done. I've been in the web world for over 10 years, and the app world now for more than 5 years. Shoot me an email, give me a call, I'd love to talk about what you'd like to do. From personal contacts to sub contracted contacts, I've worked with clients including Renters Warehouse, Quality Bicycle Products, Xcel Energy, and Hennepin County Medical Center.
Mega Jump Action Sports Experience Stunt Show
After more than 10 years of experience performing in stunt shows all over the country, Dustin helped start a brand new stunt show team performing all over the country for clients including Minnesota Vikings & US Bank Stadium, Delta Airlines, Minnesota State Fair, and many more.
YouTube Channel – 40K Subscribers. 15 Million Views.
Growing up with a creative father who works in the video industry, there was no way Dustin could avoid all the equipment he had to play around with at home. Editing since middle school, Dustin slowly started uploading his videos to YouTube and slowly amassed over 10 Million total views with 30,000 subscribers. Watch adventures of Dustin and his friends, on and off their bikes all over the world.
Managed Web Hosting
&

Dedicated Support – CDG Software
Let's make this as simple as possible. Imagine having one dedicated friend for everything web related. No more questioning where to go or who to talk to, no more random overseas support, no more stressful confusion about web sites. Design, programming, social networking, hosting, email setup… We got your back. You keep running your business. We help clients such as Cowboy Jacks, Total BMX and Renters Warehouse.
What once started with an 11 year old who had never seen a mountain or ocean, soon turned into a spontaneous 30 hour drive across America with Dustin Grice & Dallas Light, creating the first ever Lil Pros BMX Tour throughout Southern California and then overseas in the UK, all starring the youngest talent in BMX with sponsors such as Vans, Haro, Dan's Comp, Bell Helmets, BMX Plus!, Fat BMX, S&M Bikes, Fit Bike Co, and more.
Dream Park Builder iOS
&

Android App Available Now
FINALLY. An app that allows you to build, design, and create your own skatepark. Dream Park Builder is a skatepark creator & designer app that simply gives you the tools to drag and drop unlimited ramps into your own imaginary skate park.
Traveling The World
&

Figuring Out This Little Thing Called Life
No mortgage, no kids, now is the time. From dozens of road trips across America and spending many winters living in California, to traveling more than 10,000 miles in trains across Europe, we only have so much time to see this world. I've been spending as much time as possible working remotely on the road.